EVVO, THE SNOWSHOE BRAND THAT STEPS OUT OF THE TRACKS
A start up with an innovative product was seeking to position itself in the overly competitive outdoor market : a new snow shoe that has a sole created by Michelin. EVVO met The MUZES during the summer of 2020 in the midst of Covid uncertainty. It is therefore at the dawn of a winter that will be crucial and explosif for the sector that the rEVVOlution started.
The teams created a new brand identity and universe in which the strategic vision challenged the codes of the traditional and somewhat old-fashioned snow shoes. This new DNA was highlighted in the writing of the selling stories, the revamping of the website, and all other texts. A photoshoot to capture the key visuals of the brand, a strong community management, and a webmarketing strategy all help accompany the go to market strategy for the winter season.
The communication strategy was as disruptive as the product ! With a rejuvenation of the discourse, there was an opening of the sport to a new public and the creation of an ever-growing community. The success of the product was highlighted at the biennal of Saint Etienne, on a television program thanks to influence work, and with references coming from new leading sport retailers in France for the upcomming winter.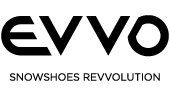 Brand strategy and omnichannel activation