SEB GROUp EMEA Direct-to-consumer
After years of developing a traditional sales model, in 2019 The MUZES supported Rowenta (SEB Group) in its transition from a brand website to a merchant website and finding the right balance between both. 3 years later, The MUZES now supports the group on its Direct-To-Consumer challenges for 3 brands (Rowenta, Tefal and Moulinex) in 8 countries, i.e. a total of 12 D2C online shops.
Rising to the challenge of several e-commerce sites while maintaining the attractiveness and richness of a brand site requires a range of complementary actions such as the management of product catalogues and the creation of landing pages. But it is also the follow-up of commercial highlights to enhance the brands with a relevant content strategy. To do so, the actions that were carried out are mainly webmastering and e-merchandising. The support comes in two stages: advising for the technical part and the creation of coupons, banners, bundles, special pages dedicated to special events on the operational part, all in 6 differents languages. A great deal of work, even more relevant and important when purchases surged with annual major sales events like Valentine's Day, summer and winter sales, Black Friday, Christmas, etc. Over 2021, a total of 899 actions were carried out, in order to assist customers and facilitate their purchase process.
The goal is achieved for SEB Group: boost online sales via e-commerce websites and increase their online market share. The success of the pilot project Rowenta led to similar online stores development for Tefal and Moulinex which have themselves encountered the same success in the group's EMEA markets. This success is due to the daily involvement of Groupe SEB's internal teams and their ongoing relationship with The MUZES.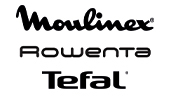 Moulinex – Rowenta – TEFAL