SHOPPING ETREMBIÈRES, FRESH AIR ON THE SHOPPING CENTER
Located on the Suisse border, the shopping center Shopping Etrembières made a tender for its communication plan for the 3 following years. After winning Val Thoiry a year before, The Muzes proposed a more modern positioning and direction plan structured around major events of the year.
On the activation side, an omnichannel strategy mixing digital channels such as website and social media, retail channels or physical banners in the Genevoise region, press releases and animations has added life and rhythm in the Shopping Center during the entire year. All with the main goal of retaining a local audience while seducing and recruiting new clients in a dynamic region hosting an increasing amount of inhabitants.
The creation of inspiring and informative social media contents, effective webmarketing campaigns, website and print designs, radiodiffusions, and prize-winning contests, together augmented the digital presence of the mall, increased consumer retention in France and developed the growing interest of Swiss consumers. All of these are grouped by colorful signature designs associated with strong key moments and always aligned with the hook "in the air".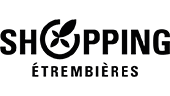 Visual identity creation and omnichannel deployment strategy