REBOOST AN ICONIC BRAND ON A DIGITAL PLATFORM
We know how French people are used to saying a "Sopalin" to describe any paper towel, regardless of the brand! To avoid staying the antonomasia brand of its category, the historic French brand Sopalin needed to start communicating digitally. The mission was to roll-out a plan to redynamise the brand by targetting and engaging with a younger population.
The communication strategy to relaunch the brand on digital was designed around four objectives: increase engagement, increase pre-purchase interest, maximise the emotional connection and capitalise on the brand.
The brand and its special link with the French were the starting point for the whole activation, especially for the core story: a brand that is so embedded in everyone's daily life obviously holds a lot of stories everybody can relate to.
After this observation and some work on strategic planning, the creative concept emerged as simple and obvious. Each of us, in our own way, are so messy, cute, sensitive, inspired, and sometimes not really morning people, and we know small smudges happen, because we are all unique in our way! And that is why Sopalin chose its new "That's So You" campaign signature to reboost its digital actions with plently of positive energy!
From a graphic point of view, the product was enhanced and the brand was modernised by reworking the symbol of Sopalin, the red color in a gradient. From a strategic point of view, social listening allowed us to better understand the target, their consumption ways and their presence on the various digital touchpoints in order to guide the 100% digital spread of the creative concept.
The digital activation took shape through a new website, a video manifesto and its variation in capsules by target, as well as the daily animation of the brand's social networks with a friendly and fun tone of voice that reflects the personality of Sopalin.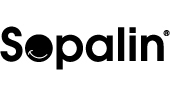 Creative concept and digital activation